Teach Me, Book 1 in the Filthy Rich Billionaires
Author: Caitlin Crews
Published: February 1st, 2020
Publisher: Harlequin Dare
Ratings: 4/5

Goodreads synopsis
"Here, now and until I say otherwise…the only thing you have to worry about is doing exactly what I tell you to do."
Socialite Erika Vanderberg has been planning for this night for months. Years. All so she can finally gain entrance to Berlin's most exclusive sex club. Erika is here for one person: Dorian Alexander, her brother's best friend and her secret childhood crush. Only, now her childish crush has been replaced by something hungry, raw and oh-so-wickedly adult. And the moment Erika sees Dorian—his dark eyes intent and focused, that hard body—everything comes crashing into place.
Yes, she's submissive. And yes, she desperately wants to surrender to Dorian over and over again. Oh yes, please. After one taste, there is already a dark hunger between them…one that threatens to unleash who Erika really is.
My thoughts
Wow! this book, I don't really read about BDSM but this book was hot.  It is short steamy novela but it has great character growth and the steamy sexy scenes are over the top super HOT!
This short story follows Erika and Dorian, Erika likes to act out of control and push buttons ever since her father died.  Dorian, her brother's best friend sees her as that an out of control brat until one day Erika shows up at his BDSM club where he is some type of expert in the BDSM arts LOL..Erika had always had a thing from Dorian and she makes sure he sees her for what she really is a woman who is willing to do whatever it takes to get him, even playing submissive games with him.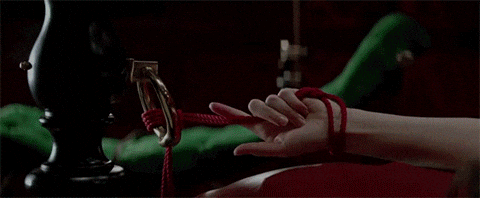 I really don't want to say more than that since like I mentioned it is a short novela but it these characters are so flawed and the growth we see on each page is worth the read.  One thing I will say about this though that I didn't like it was all the mental talk about how wrong it was for Dorian to be doing these type of things with his best friend's sister.
If you like super hot smutty reads I recommend this book but if you don't then stay away, there's a lot of talk about being submissive that I didn't fully get but it is still a great read.
Thank you to Harlequin Dare and Netgalley for providing me with an e-arc in exchange for a review.